At Chantry Middle School, we recognise the contribution of Physical Education and Sport to the health and well- being of our students. We believe that a personalised and varied Physical Education curriculum and extra curricular opportunities have a positive impact on other areas in school such as attitude, concentration, behaviour and academic achievement.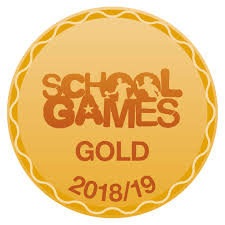 In the summer of 2019 we achieved the School Games Gold Award which demonstrates our commitment to ensuring high quality Physical Education and developing both competitive sports and healthy activity.
Our Primary School Sport Funding enables us to continue to extend our provision through employing additional sports professionals, entering into more sports competitions and allowing all staff to access new resources and training to aid in the delivery of high quality Physical Education .
This is awarded for PE provision in the following ways:
 Increasing Engagement in School Games
Provide all students with two hours of timetabled Physical Education per week (within the curriculum only) and have extra curriculum provision inclusive of physical activity in addition to this – applicable to years 3-11 only.
The schools provides a large variety of sports to ensure a fun and thorough PE learning experience for pupils.
Engage at least 50% of pupils (20% for special schools/PRUs) in extracurricular sporting and physical activity every week – applicable to years 3-11 only.
Over the course of the academic year, have targeted provision for those least active young people in your school and a minimum take up of at least 15% from those identified as least active at the start of the academic year. This take up needs to be sustained over a term – applicable to years 3-11 only.
The school provides this through free clubs delivered by school staff and also specialist clubs which pupils pay for and have access to specialist coaching.
Developing Competitive Opportunities
Use the School Games formats to provide the opportunity for both boys and girls to take part in the appropriate level of competition.
MPSSP
The Morpeth and Ponteland School Sport Programme (MPSSP) aims to deliver a high quality programme of PE and School Sport for young people.
1. High Quality Curriculum Physical Education
The MPSSP will provide high quality specialist PE teachers and/or Sport Specific coaches to deliver PE curriculum. They will work alongside teachers to help improve provision for PE and Sport in each school setting.
2. CPD
MPSSP will provide a number of CPD opportunities for curriculum physical education and school sport provision using school based support and/or nationally accredited tutors and courses.
3. Out of School Hours/Lunchtime Learning
MPSSP will deliver a range of lunchtimes and/or afterschool programmes. All teachers/coaches will have appropriate qualifications; have a current CRB and relevant experience.
MPSSP will help sustain/grow the network of Change4life sports clubs and develop links with local sports clubs.
4. Festivals and Competition
MPSSP will organise and deliver festivals working in partnership with the Northumberland School Games, developing competitive opportunities for all, including the least active. Each school will have access to a co-ordinated calendar of events in the Morpeth & Ponteland area.
5. Leadership and Volunteering
MPSSP will work with schools to develop sports leadership for young people.
MPSSP will help develop the workforce of teachers, non-teaching staff, parents, volunteers and young leaders required to activate the School Games as required.
6. Provision for Young People with Disabilities
MPSSP will provide schools with advice regarding the provision of physical activity and sport for young people with disabilities where requested.
MPSSP will ensure the provision of both inclusive and targeted opportunities for young disabled people with access to the School Games.
7. Gifted and Talented
MPSSP will assist schools with identifying young people who are gifted and talented in PE and sport.
Contact Details:
Franki Clark, MPSSP Manager & School Games Organiser
Mobile: 07815758489
Email: franki.clark@northumberland.gov.uk