Geography Statement of Intent for CMS
We want Geography to develop our pupils' curiosity and fascination in the world, its people and places and that they will recognise the differences and similarities that exist locally, nationally and globally. Our geography curriculum allows our learners to gain geographical knowledge, understanding and skills to explain how the Earth's features are shaped, interconnected and change over time. We want our learners to become balanced, sympathetic and open minded who are equipped to make the most of their geographical future. 
Our Geography intent aims to ensure that all pupils:
have an interest in our world such that they can watch / read the news and understand with clarity the issues that will shape their future.

have an informed view of the underlying causes and effects of geographical issues. 

develop a deeper understanding of the interactions between the physical and human elements that shape our world.

enable them to develop their responsibilities as global citizens with a sense of stewardship. 

Curriculum Across the Year 
In KS2 pupils receive one lesson of Geography per week.

In KS3 Year 7 receive two lessons of Geography per week.

In KS3 Year 8 receive one lesson of Geography per week.
Key Components 
KS2
Year 
Topic
Key Components 
Year 5
Mountains

Explore the mountain environment through the study of a LIC (Low Income Country) Nepal. Investigate mountain ranges of the world and the processes by which they are formed. 

Mexico

A study of the country Mexico, exploring physical and human features. 

Europe

Extend knowledge of the seven continents of the world (Europe). 

Year 6
Our Local Area

Explore physical and human features of the UK. Study our local area of Morpeth; describe the landscape using OS maps. 

Raging Rivers

Extend knowledge of physical geographical features – rivers. 

Locate key physical features (rivers) both nationally and globally. 

Develop use of geographical skills to enhance place knowledge. 

USA

Extend knowledge of the seven continents of the world (USA). An in depth study of the western region of North America.  
KS3 
Year 7
Building a Geography Toolkit 

Understand the difference between human, physical and environmental geography.

Develop key geographic and cartographic skills.

Our Island Home

Understand the geographical differences between the United Kingdom, Great Britain and the British Isles.

Explore the physical and human geography of the UK. 

Living in a

Global

World 

Know that we live in a globalised world. 

Understand that everything we do has an impact which is increasingly global rather than local or national. 

Explore the many ways that we are connected to people and places in other countries.

Explain the impacts of MNCs.

Evaluate the impact of globalisation to different stakeholders. 

The 

Cracking

Coast

Understand that the coast is a dynamic and changing system.

Describe what the coast is like, how it changes shape and how it can be protected.

Study the processes of erosion, transportation and deposition and investigate their impact upon the coast. 

Explain the formation of different coastal landforms.

"Jambo" from Kenya

A study of the country Kenya  (an LIC in Africa), exploring physical and human features. Respect the cultures and traditions of Kenya; investigate tourism. 

Middle of Where? East of What?

Extend knowledge of the world's countries.

Compare and contrast an area of high income and an area of low income in the Middle East. 

Appreciate the differences and similarities between people, places, environments and cultures to deepen understanding further. 

Year 8
Unstable Earth

 

Develop understanding of tectonic patterns, processes and events, the earth's structure and plate movements. 

Gain a depth of understanding by investigating comparisons between different natural disasters. 

Broaden understanding to include human actions and response to risk and the idea of preparedness for natural disasters. 

There is no Planet B! 

Know that climate change is a complex and controversial issue.

Know that the Earth is now at its warmest level since the late 1800s.

Explain that it is not for geographers or scientists to dictate to the world but to declare what they see and then allow people to make up their mind

The Living World

Know the difference between a biome and an ecosystem. 

Understand that an ecosystem is made up of both biotic and abiotic features.

Understand that a rainforest is a fragile environment that needs to be protected before it is destroyed.

The Living World 

Continued from Spring 2

As previous 

Incredible India

A study of the country India, exploring physical and human features. 

Appreciate the differences and similarities between people and places in India to deepen understanding as to why rural to urban migration takes place.
Websites
There is a wealth of information on the internet about the topics covered in the curriculum. You could explore the following: 

Homework
Within Geography homework is set to provide opportunities for pupils to consolidate learning, deepen understanding and give opportunities to practise and develop skills ensuring students' progress and raising achievement. In Geography  homework will be focused around the 3Rs (Reading, Retrieval and Research). 
R

eading 

R

etrieval 

R

esearch 

Regular reading helps develop cognitive abilities. 

Retrieval (recap) activities help students to strengthen their memory and recall information from their learning, leading to deeper learning and understanding. 

Research activities enable pupils to deepen and extend their understanding further.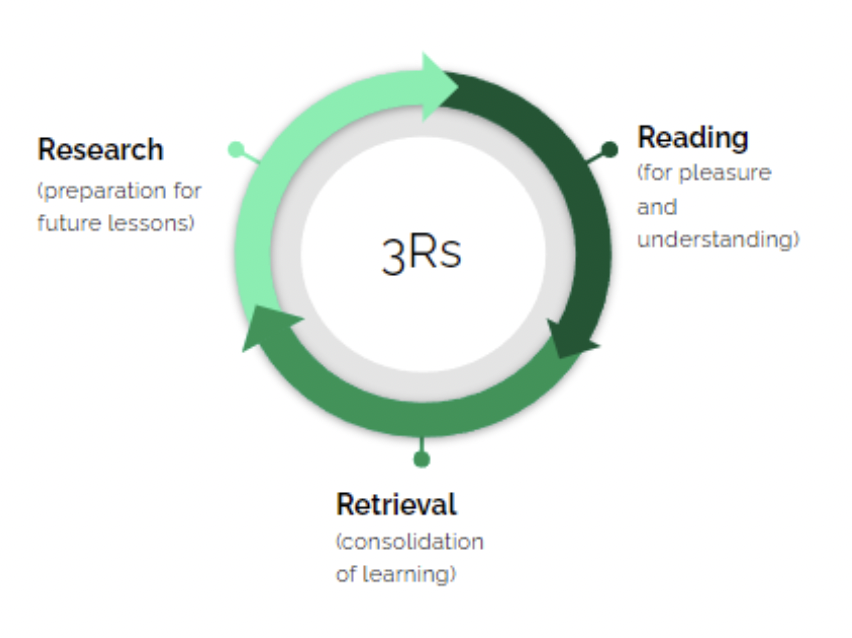 Helpful resources for learning 

Recommended Reading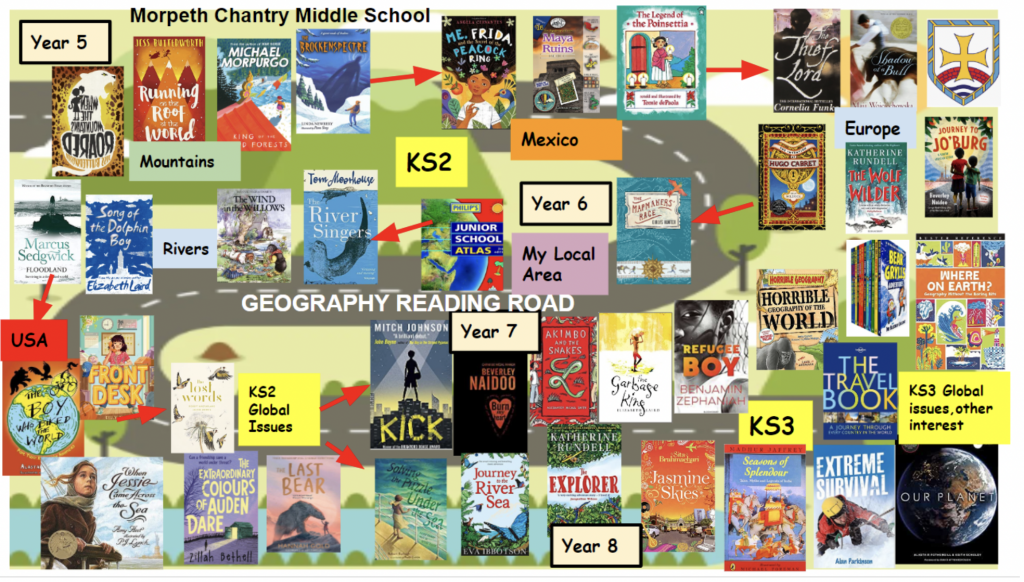 Parent Information
Fun ways to inspire children with Geography
You could: 
Read around the topic you are studying

Choose a relevant book from the reading road!

Take a trip to a river, the coast or simply go for a walk.  
Geography Assessments
Pupils are formally assessed throughout both KS2 and KS3. Assessment may include: 
Multiple choice questions

A short response questions 

An extended written response