Design Technology Statement of Intent for CMS
Key Components
Year 5

Carousel A

Product Design

Introduction to Product Design:

Pupils become familiar with the workshop as they design and make a personalised pencil holder.  They use the scroll saw, disc sander and bench drill and various other hand tools. Key emphasis on Health and Safety.

Key Components:  

Demonstrate working safely in Workshop while using the bench drill and disc sander.
Understand that timber can be shaped and joined using hand tools and machinery

Carousel B

Food Technology

Healthy Lunches:

Intro to food safety and hygiene and knife skills.

Key Components:

Follow knife safety rules to chop, dice and slice ingredients
Demonstrate working safely and hygienically
To know the reasons why our bodies need each of the different food groups on the Eatwell Guide and why fat and sugar are not included. 

Carousel C

Textiles Technology

Brilliant Bags:

Exploring what textiles are and how fabrics can be made and decorated.

Key Components:

To know that textiles are made from fibres, what fibres look like and that they can be made into fabrics.
To experience handling fibres and fabrics, changing their colour and shaping them. 

Year 6

Carousel A

Product Design

Amazing Mazes

Pupils build on their skills and knowledge of Product Design from Year 5 to shape, join and refine timber to create a handheld maze while also being introduced to using plastics and the vacuum former. 

Key Components:  

Demonstrate working safely in Workshop while using the bench drill, disc sander and vacuum former. 
Understand that materials can be shaped, joined and refined using hand tools and machinery

Carousel B

Food Technology

Brilliant Breakfasts:

Safely using the hob, oven and blender.

Key Components:  

To safely use the hob, oven and blender.
To be able to evaluate products you have made

Carousel C

Textiles Technology

Animal Cases:

Design and make a device case which is decorated with applique.

Key Components:  

To be able to join materials to create a 3D product
To communicate ideas 
Carousel B

Food Technology

Year 7 Food & Nutrition:

Developing a repertoire of skills to enable pupils to cook independently while also gaining a deeper understanding of food safety, hygiene and nutrition.

Key Components:  

To extend knife skills
To understand how the different methods of heat application affect foods (baking, grilling, using the hob)
To be able to safely handle and cook raw meat
To consider alternative ingredients and plan how to make products

Carousel C

Textiles Technology

Cool Cushions:

Pupils research their client and apply their knowledge of decorative techniques to design and make a product to be sold in Gap. They can use heat press, embroidery, applique, beading or sequins before further developing their sewing machine skills.

Key Components:  

To be able to create and use templates to accurately shape materials
To print/apply a design to fabric
To extend knowledge of textiles manufacturing techniques (pinning, tacking, sewing by machine) 

Year 8

Carousel A

Product Design

Birdfeeder:

Pupils refine their making skills to create a birdfeeder of their own design, considering what makes a high quality product.

Key Components:  

To further extend design/communication skills
To be accurately shape and finish materials 
To carry out quality control checks

Carousel B

Food Technology

Year 8 Food & Nutrition:

Extending knowledge of food preparation and nutrients and further developing skills to enable pupils to create their own recipes.

Key Components:  

To identify the function of ingredients and modify recipes
To explain the function of micro and macronutrients in our bodies
To consider the factors that affect the cost of foods

Carousel C

Textiles Technology

Designer Bags:

Design and make a bag with a specific function for the customer of their choice.

They further develop their knowledge of making techniques and work with a variety of textile components to create a prototype for a bag that could be mass produced to be sold in Primark.

Key Components:  

To demonstrate knowledge of manufacturing techniques
To be able to develop ideas through iterative design 
To know how a product would be mass produced 
To be able to design an ergonomic functional product that is suited to an end user

Product Design

Mood Light:

Pupils create a stand, shade and electronic circuit for a colour changing LED.

Key Components:  

To create a functioning electronic circuit
Age Related Expectations
By the end of Year 5 pupils should be able to safely shape and combine materials when working with Food, Textiles and Timber using a range of hand tools independently while also being introduced to machinery.  They will be able to communicate their ideas by drawing and labelling designs and should continually evaluate the techniques they are using to make quality products. 
By the end of Year 6, pupils will build on their Year 5 skills and knowledge while working with more complex tools, machinery and processes.  In addition to timber, pupils will work with plastics in product design, they will independently use the hob and check their food is cooked and in Textiles they will construct a 3D product.  
By the end of Year 7, pupils will have followed a 4 stage design process (define, research, develop and reflect) to create functional products using a wider range of materials.  They will be able to use all parts of the cooker, the sewing machine, heat press, bench drill, disc sander and scroll saw safely and confidently.
By the end of Year 8, pupils will be able to select and use a wide range of tools, machinery and materials to work with safely, accurately and appropriately, justifying reasons for their choices.  As they are working, they will carry out quality control checks to make high quality products. 
Curriculum Intent 
To create an environment where all learners can work safely and independently, supporting them to build their confidence and challenge them to be innovative while developing a repertoire of practical knowledge, life skills and an awareness of career options in related industries.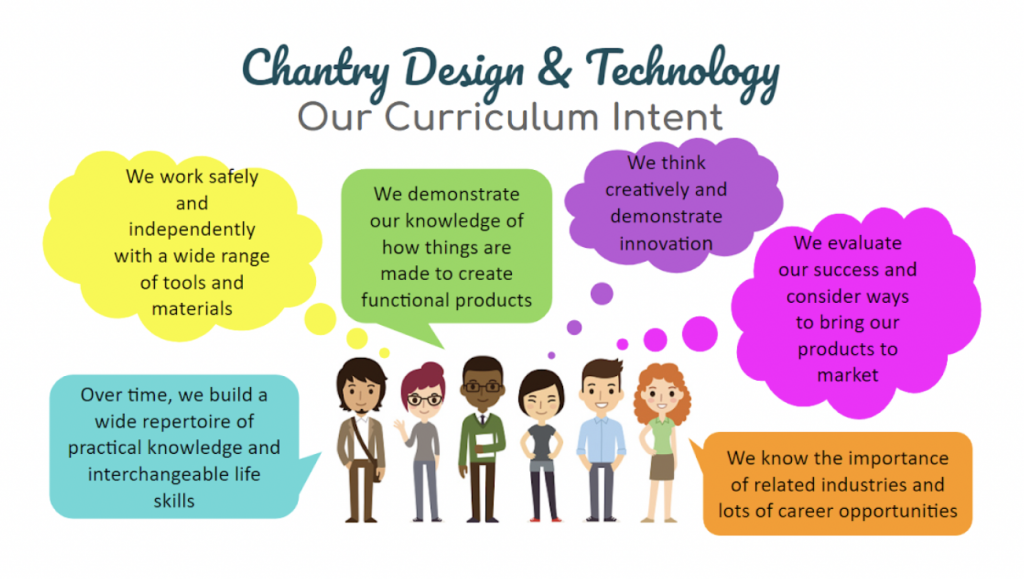 Websites
Tinkercad – pupils will need to login as a student via Google
Sketchup Free – pupils will need to login as a student via Google
Homework – KS2 – Optional extension to learning challenges set through google classroom
KS3 – 1 homework every half term for Product Design and Textiles. These enhancement tasks could be knowledge retrieval or research tasks linked to classroom learning.

Students will also be asked to organise their ingredients for Food Technology.  Students are given generic ingredients lists at the start of the topic which will be discussed in lessons one week in advance of the practical task to enable pupils to understand how the recipes can be adapted.

Recommended reading lists – could be per year group/key stage
TBC
Design Technology

Read

Watch

Visit

Research

Do

From A to Eames by Lauren Whybrow

George Clarke's Amazing Spaces

The Baltic Centre for Contemporary Art

https://designmuseum.org/

https://www.tinkercad.com/

Masterpieces of British Design by Charlotte and Peter Fiell

The Great British Sewing Bee

Discovery Museum

https://jamesdysonfoundation.co.uk/

https://sketchup.com/

How things are made by Oldrich Ruzicka

The Repair Shop

Life Science Museum

https://stem.org.uk/home-learning/secondary-design-technology

https://projects.mouse.org/

Women Design by Libby Sellers

BBC Big Life Fix

The Biscuit Factory

https://data.org.uk/

https://photopea.com/

British Design from 1948: Innovation in the Modern Age

BBC The Imagineers

The Sage

https://technologystudent.com/

https://classroom.thenational.academy/

Now Make This: 24 DIY Projects by Thomas Bärnthaller

BBC How to build…

The Glass Centre

http://mr-dt.com/default.htm

https://construct.net/en
Helpful resources for learning 
Parent Info 
To help your child at home in Design Technology you could:
Look at existing products and talk about the problem the designer has solved or how it is made

Be inventors – draw your ideas and label them to develop communication skills

Get modelling – raid the recycling bin to make models of your grand designs at home

Try crafting – practising sewing or learning to knit/crochet will help your child to develop fine motor skills

Invite your child to help prepare meals and do the dishes together!

Get baking!

Assessments – Pupils design, making and continual evaluation skills and knowledge will be assessed throughout each carousel.