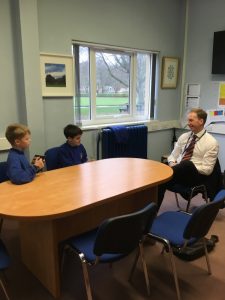 Ben: Hello Mr Stewart, I am Ben.
Jack: And I am Jack, and  we are both young reporters.
Ben: We would like to ask some questions about your career as a Headteacher.
(Ben) Q: How did it feel when you first introduced yourself to Chantry?
A: It was nervous, exciting, a great opportunity and he was focusing on the overall plan/view.
(Jack) Q: Obviously as a Headteacher you've had some ups and downs, so far, what do you think the greatest moment you've had in your career is?
A: During the Sign2sing, this is because he nearly cried in joy as he saw the culture of the school and the fact that it was for a great cause and we were trying our all.
(Ben) Q: Why did you decide to become a Headteacher?
A: When he was a PE teacher, he realised that he thought he would be good at having a bigger say for the school, he then became a year leader, during which he helped emotional support ect. Then he became a deputy at KEVI and he enjoyed so much he became a head teacher
(Ben) Q: And did you have any previous careers beforehand?
A:He was a waiter in a chinese restaurant for 15-19 yrs, then a security guard for 2 yrs and then for 3 months he worked in a clothing warehouse so he could get money so he could travel the world.
(Jack) Q: How do you think we, as a school have behaved in your presence?
A: Out of 584 pupils 99% are well-behaved, we want to learn, he loves all of the opportunities such as clubs, trips and the career aspects.
(Jack) Q: Do you think that it's improved since you joined?
A: He doesn't know as he wasn't here, however he realises that there will be sometimes where there is poor attitude, and that it is important that we understand when we are having poor attitude. He is always looking for improvements.
(Ben): Thank you for having us.
By Ben and Jack, Year 7